The baler is a mechatronic product, which is mainly composed of a mechanical system, a control system, a feeding system, and a power system. The whole Baler process is composed of auxiliary time such as pressing, returning, carrying, transferring, outgoing up, outgoing down, and receiving. The baler on the market is mainly divided into two types, horizontal and vertical. So, is the baler better vertical or horizontal?
1.
Vertical hydraulic baler
is mainly used to recycle packaging materials and waste products such as compressed cardboard, waste film, waste paper, foam plastic, beverage cans and industrial scraps. This vertical baler reduces waste storage space, saves up to 80% of stacking space, reduces transportation costs, and is conducive to environmental protection and waste recycling.
2.
Horizontal hydraulic baler
is mainly used for packaging waste paper (cardboard boxes, newsprint, etc.), waste plastics (PET bottles, plastic films, turnover boxes, etc.), straw and other loose materials. Greatly reduce the volume, increase the density, and facilitate transportation and storage. It is a powerful helper for comprehensive utilization and development of material energy.
3. The
horizontal baler
is the mainstream equipment used in the baling station now, which can meet the packaging of more than ten tons of paper every day. Can prepare for future scale expansion. The vertical baler is a small-scale baler or equipment selected in the case of insufficient initial funds, but if it is predicted that there will be a large amount of waste paper recycling in the short term, it is a wise choice to choose a horizontal baler.
4. The vertical volume is relatively small, because the packaging size is relatively small, and the efficiency is not high. Compared with the vertical baler, the horizontal baler is bulkier, the compression force is larger than the vertical baler, the baling size is relatively large, the efficiency of the bale is high, and the operation can be automated. Horizontal Baler machine is easy to realize automation, can improve the overall efficiency of Baler, and save the labor cost of Baler.
Vertical baler
is better or horizontal baler. In fact, both have their own occasions and advantages. We can choose according to the actual production. For raw materials such as yellow cardboard, air-conditioned cartons, etc., you can choose a conventional horizontal waste paper baler, and for raw materials with paper edges, you can choose a small horizontal baler.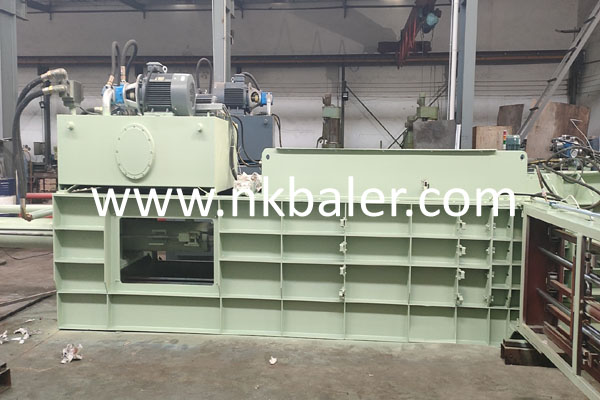 Nick Machinery provides: horizontal hydraulic baler, vertical hydraulic baler, waste paper baler and other packaging equipment, company website: www.nkbaler.net, telephone: 86-29-86031588, looking forward to long-term cooperation with you!