Scrap metal balers
are mainly used in recycling and processing industries and metal smelting industries. Various metal scraps, steel shavings, scrap steel, scrap iron, scrap copper, scrap aluminum, aluminum shavings, disassembled car shells, waste oil barrels and other metal raw materials can be squeezed into rectangular, cylindrical and other qualified furnace materials in various shapes . It is convenient for storage, transportation and recycling.
Shaanxi Nick Machinery Co., Ltd. direct sales products: scrap metal baler, scrap metal shearing machine, scrap metal vertical baler,
scrap aluminum baler
, absolute factory direct sales, not exaggerated. Metal balers have diversified specifications and favorable prices.
The main advantages of
scrap metal baler
are as follows:
It has a large material box, the internal width of the material box is 0.9 meters, the front and rear length is 1.5 meters, the depth is 0.6 meters, 0.9*1.5*0.6 meters, and the packing block specification is 300*300*550-700 mm, and the rear push cylinder squeezes forward. Packing, the maximum pressure is 400 tons, the packing and Block Press speed is fast, the front-turning packs out, the double-sided scissors, the operation is simple and convenient, considering the customer's long-term high-efficiency operation, equipped with a large oil tank and an air-cooled radiator to ensure long-term hydraulic oil If the temperature is not too high, the equipment can operate normally. The investment is small, the efficiency is high, and it is favored by the majority of users.
Characteristics of
scrap metal baler
1. The way of package delivery: turn the package forward to make a block.
2. Wear-resistant plates are provided in the material box, which is more durable.
3. The upper gland is equipped with a lock, and the block forming effect is better.
4. With power distribution box, using energy-saving pure copper wire motor, which greatly saves electricity costs for users.
5. The operating valve adopts an advanced large-flow integrated block valve body, which has a good pressure-holding effect.
6. Hydraulic drive, select manual or PLC automatic control system
7. No foot screws are required for installation, and diesel engines can be used as power in places without power.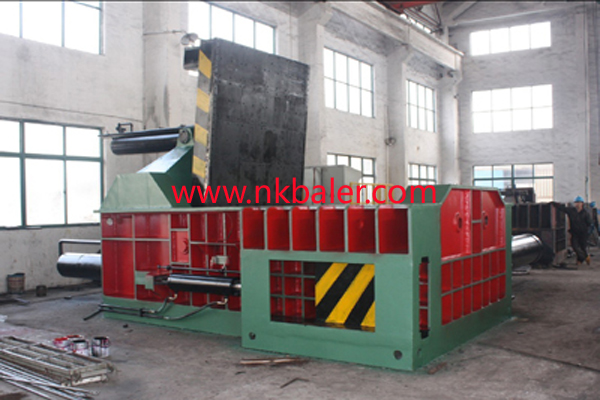 The scrap metal baler produced by Nick Machinery has a simple structure and is hydraulically driven, which improves production efficiency and reduces manpower input. The price is reasonable. Welcome to buy. 86-29-86031588