How does the Australian straw baler work?
Author : admin Time : 2021-12-31 AllPageView : 151
This equipment belongs to a
fully automatic straw compression baler
. The equipment completes the whole straw scrap baling through the cooperation of the stroke switch and 4 hydraulic cylinders. It only needs to connect the bag, cover the bag, and tie the mouth manually. The equipment is divided into collection box, compression box, discharge port, main pressure head, side pressure head, push pack pressure head, hydraulic cylinder, hydraulic valve, electrical appliances and other components. The equipment enables the collection box to continuously supply materials, which increases the efficiency of the equipment. The collection box of the equipment can observe the amount of material to prevent material blockage. The Baler process is to transport the materials to the Baler box of the Baler machine through the conveyor belt delivery system.
The main cylinder pushes the compaction horizontally-the side cylinder longitudinal compaction-pushes the Baler head to push the block into the Baler bag. The parts return to their positions to continue the next working cycle. The whole process is done in one go, and it can be switched to semi-automatic or manual at the same time. The entire packaging process only takes 1 minute. In contrast, the unit packaging cost of the vertical baler is low, but the production efficiency is low; the horizontal straw baler has a large investment, but the production efficiency is increased by 10 times, the pressure is large, and the weight of the bale is large, which can make up for the shortcomings of equipment investment . Therefore, it is recommended that friends who need a straw baler to choose the equipment according to their actual situation.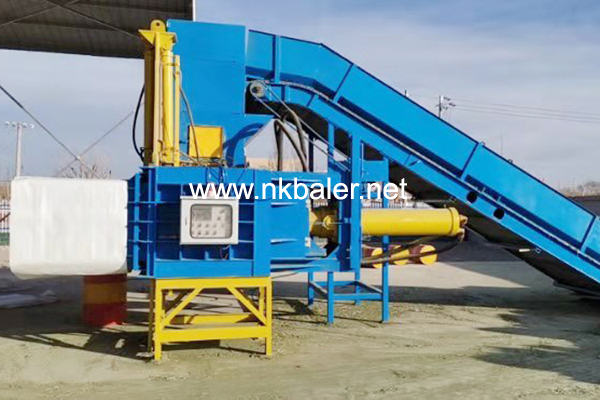 NKBALER is a professional manufacturer of
hydraulic machinery and equipment
, specializing in providing straw balers, straw briquetting machines, etc. Tel 86-29-86031588, looking forward to long-term cooperation with you.