Moroccan automatic baler structure
Author : admin Time : 2022-01-10 AllPageView : 25
In the process of people's production, life, and industrial and agricultural production, a large amount of waste paper and waste will be generated. These waste products are recycled for centralized processing and reuse. In order to save space and save transportation costs, waste paper needs to be squeezed before recycling and transportation. Pack. The current
waste paper baler
needs manual filling, opening, bundling, and unPress into a bale. The Press efficiency is low. Moreover, the current baler is pushed out from the new bale at the rear to the exit and then bundled with steel wire. Press is carried out during the pushing process. It is easy to be scattered, resulting in the need to rework, which is time-consuming and labor-intensive.
The automatic waste paper baler includes a baler main body and a feeding device. The specific mechanism of the baler main body includes a material channel, a material inlet, a main hydraulic system, and a binding device. The material channel is a horizontally long rectangular frame structure with one side of the material channel The upper end is equipped with a feeding port, and the main hydraulic system is installed at the transverse end of the material channel on the feeding side. The main hydraulic system of the automatic waste paper baler includes a main hydraulic cylinder for laterally squeezing the material in the material channel.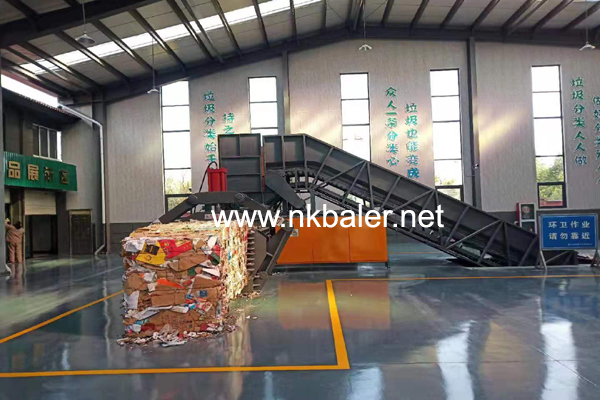 The other end of the frame is the outlet of the baler, and the outlet of the baler is coaxially installed with a strapping device. The feeding device is arranged outside the material channel on one side of the feeding port. The feeding device is equipped with a timing belt driven by a stepping motor. The timing belt is uniformly spaced with a plurality of feeding plates to transport materials at a uniform speed from bottom to top.