The
hydraulic straw briquetting machine
is classified from the transmission mode.
Waste paper briquetting machine
, straw briquetting machine, plastic bottle briquetting machine and other equipment are now used in this way. Therefore, when you hear about
hydraulic straw briquetting machine
, it refers to the straw briquetting machine equipment currently using hydraulic system. There are two methods for straw briquetting machine. After the straw is sent to the baler, the straw is packed into the machine in two compression stages.
In the first stage, the straw briquettes are relatively loose and require a small amount of pressure to achieve a larger proportion of deformation.
The relationship between process pressure and deformation can be approximately equal to a linear relationship. The compression process of the straw briquetting machine is mainly to reduce the gap between the briquettes. Since the straw itself is relatively loose, the amount of compression at this stage is relatively large. Easy to complete.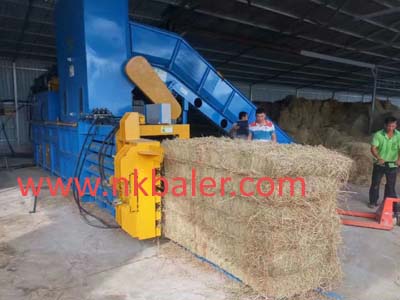 The next step is mainly compact. After the previous stage of compression, the density between the straw briquettes decreases, and more compression is needed to achieve greater compression. The deformation of the straw becomes smaller, but the pressure needs to increase faster. The relationship between material deformation and pressure is a non-linear relationship. At this stage, the pressure of the
straw briquetting machine
is mainly to overcome the gaps inside the straw. At this stage, the compressed filler is greatly affected by moisture, feed rate and loading rate.
The maintenance of hydraulic straw briquetting machine should be kept tidy, clean, firm, lubricated, anti-corrosive and stable. Daily inspection, maintenance and regular inspection of parts: check cylinders, oil pumps, electrical appliances and sliding parts. Maintain and inspect machine parts and modifiers. Check the power cord of the machine and make sure to put the power cord on the forklift and the aisle to avoid stress on the power cord.