Uses of Kazakhstan cotton baler
Author : admin Time : 2020-11-20 AllPageView : 128
Kazakhstan is the country with the highest latitude for growing cotton.In the south of Kazakhstan,the Karatau Mountains act like a barrier,blocking the cold airflow from the south,creating a suitable environment for the growth of cotton and other crops.The cotton industry is the pillar and characteristic advantageous industry of the South Kazakhstan region of Kazakhstan,and it is also an important part of the agricultural development of Kazakhstan.
So,how is the cotton transported?You know,cotton is light in weight,occupies a large area,and is particularly fluffy,so direct transportation costs money and labor.At this time,we need a cotton baler.
The cotton baler can pack cotton into blocks,compact,neat and beautiful,and can greatly reduce transportation costs.It is a must-have production for cotton producing areas,textile companies,supermarkets,clothing factories,waste material recycling industries and various other light industrial enterprises tool.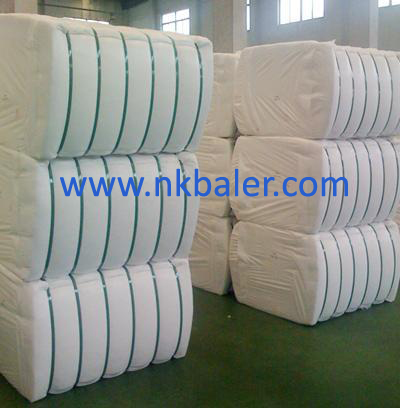 Hydraulic cotton baler.Since its production and operation,all indicators of the system have reached the design requirements.The successful development of this project has far-reaching significance and promotion and application value for the development of cotton processing industries in various countries.The new ginning process complete equipment system has been perfected,and the cotton industry in various countries has developed vigorously.
Nick Machinery is a professional company engaged in the development,production,sales and service of hydraulic machinery and packaging machinery.It is your best choice to build professionalism with concentration,reputation with integrity,and sales with service.
If you are interested in the cotton baler or have any questions,please log on to our company's website:www.nkbaler.net,or call:86-29-86031588