Nick brand
waste paper baler
has simple structure, stable operation, automatic bale delivery, low failure rate and easy cleaning and maintenance, which can better serve you.
The hydraulic waste paper baler is a very comprehensive machine. In addition to the appearance of the steel frame, it also requires internal precision parts. Only the two are combined to make a waste paper baler with good quality and high output.
The structure of the waste paper baler is very complicated. It is precisely because of this that when it breaks, it needs to be carefully inspected and the problems are dealt with. Today, Nick Machinery will give you a brief introduction to how to deal with problems with the waste paper baler.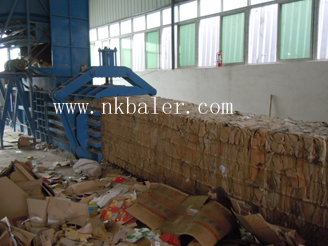 The disposal method of
waste paper baler
has two main functions, one is correction, the other is transformation. A more economical way to make corrections can be through welding, repairing, plating, turning, grinding, grinding and other craftsmanship to correct the shape and standard of the parts to meet the original accuracy and sealing and other functional requirements. In general, repairing takes less effort than manufacturing new parts!
Conversion means that when the parts of the waste paper baler have no correction value or are technically difficult to correct, and spare parts are available, the change should be made without hesitation.
Changing new parts can generally shorten the repair cycle, and generally adopt changing methods for wearing parts. Therefore, the hydraulic waste paper baler must also do spare parts work.
When these problems occur with the waste paper baler, it is generally processed through the above two methods, and users can choose according to their needs! If you still can't solve it, welcome to inquire. Company website: www.nkbaler.com, Tel: 86-29-86031588