The plastic baler brings great convenience to life
Author : admin Time : 2021-04-16 AllPageView : 21
The
plastic baler
can pack waste plastic bottles, improve work efficiency, save manpower, and play a vital role in environmental protection of plastic bottle recycling. In this issue, we will introduce the plastic baler!
In the process of recycling plastic bottles, handy packaging equipment is often inseparable. A small city generates hundreds of thousands of plastic bottle garbage every day. If it is pulled by a truck, there are four or five. In fact, plastic bottles are large in size and piled too loosely. If a horizontal hydraulic baler is used for compression and packing, it can be easily loaded in a car, and the packing efficiency of the horizontal hydraulic baler is also quite high, which can process 6-20 tons of plastic bottle waste in one hour. The use of the horizontal hydraulic baler makes the huge and messy beverage bottle stacks particularly neat. The horizontal waste paper hydraulic baler is compact, neat and beautiful, and also greatly reduces the site cost and transportation cost. The packed plastic bottles have regular shapes and are neatly placed. The emergence of safe horizontal hydraulic balers in storage and transportation has brought many benefits to our daily lives, especially in the recycling and reuse of resources. The horizontal hydraulic baler can meet the demand for energy saving, and can provide resource services for the operation of the agricultural and sideline products processing industry. Moreover, the full-automatic horizontal hydraulic baler has a wide range of applications, and can be applied to the packaging of all light foam and loose materials such as waste paper, waste paper boxes, waste cardboard, straw, bark, and waste plastic bags. It can solve the problem of a large amount of waste accumulation and disposal, which not only compresses the storage space, but also facilitates transportation and saves costs. Therefore, this machine has been favored by more and more customers.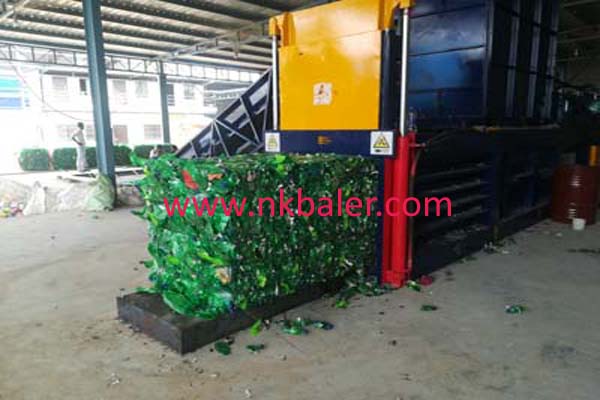 The
fully automatic hydraulic baler
produced by Nick Machinery provides automatic bundling, unmanned operation, fast speed, simple structure, stable action, low failure rate and easy cleaning. Welcome to purchase.