Sri Lanka automatic baling press machine
Author : admin Time : 2022-11-21 AllPageView : 28
Fully automatic baler
, also known as unmanned baler, refers to the use of automatic baling press equipment on the production line that does not require manual operation. All the work processes of the baler are automatically completed through PLC control and photoelectric detection without manual intervention. But recently there is feedback from users that
the baler
always packs repeatedly, why is this?
To explain this, we need to understand how the normal workflow of a baler is. Taking the standard machine as an example, the baler generally uses the electronic eye to detect that there is an item coming to the designated position, and then starts the first pass, and then starts to travel to the designated position to play the second pass. machine to the next station. At this time, all the photoelectric switches are in the released state (that is, not blocked). When the next block comes in, the baler starts
a new baling press
process. The above description is under normal circumstances, so what is the situation of the repeated baling press proposed by the customer? Is the baler malfunctioning?
In fact, it is not. According to previous customer feedback, it is generally because the cache line at the end of the baler is blocked that the baling pressed object cannot leave the baler on time, but the next block to be baling pressed has been delivered to the baler, resulting in confusion in the detection of the photoelectric sensor. At this time, the photoelectricity of the baler is always in a blocked state, and the baler cannot distinguish which one has been packed and which one needs to be packed, so there will be frequent baling press of the same item. The solution to this problem is also very simple. One is that the user should take away the materials on the cache line in time, or lengthen the cache line to store more items. A sensor is installed to detect the congestion state. If there is a congestion, the baler will stop running, otherwise it will work normally.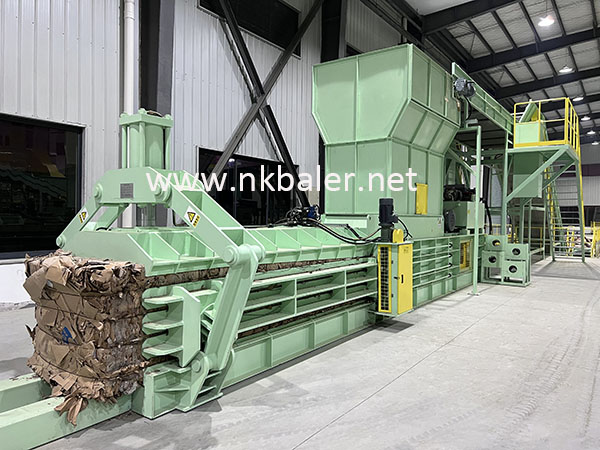 NICKBALER Machinery has a mature after-sales service system, 7 * 24 hours professional hotline service 86-29-86031588, quickly help you solve any incurable diseases, is your best choice!