NKW200Q automatic hydraulic baler is designed for waste paper recycling station. The packing efficiency is higher and the density is higher. Suitable for medium and large-scale waste paper recycling stations. This Baler configuration: air-cooled, water-cooled, PLC, remote control.
The operation adopts automatic mode, feeding, packing and length calculator. To a certain length, the machine automatically compresses to the baling position, and the threading machine automatically penetrates the wire (plastic rope). At this time, only the wire rope is manually bound, and the wire can be automatically bundled. The baler arm is extended, and the waste paper walks more inside the machine. A certain distance makes the waste paper more stylish.
High efficiency: It is designed with two working modes, automatic and manual, and one person can complete all packing work at least; it is equipped with a length setting device, and a reminder will be given when the bale reaches the predetermined length. When loading the car, it can be based on the body Length Choose different types of bales with different lengths.
High density: Compared with the previous small waste paper box baler, the system pressure is increased, and each body part is reinforced to make the packing density higher. The service life of the whole machine is prolonged.
Low price: Because we use a mass production model, and we produce our own cylinders and hydraulic systems. Therefore, the production cost is lower than other manufacturers, and our waste paper baler has a better price advantage.
High-quality performance: Different parts of all products are produced by different departments in cooperation, giving full play to the unique advantages of each department. In addition, the implementation of a problem responsibility system has increased employees' emphasis on quality. The equipment is repaired free of charge within one year, and our manufacturer is responsible for any quality problems. The problem will be solved at the scene within 24 within the province, and within 48 hours outside the province. Lifetime warranty, and provide a variety of original accessories at low prices.
Scope of application: waste paper packaging, cotton packaging, clothing packaging, straw packaging, plastic packaging, wool packaging, recyclable garbage packaging, scrap packaging, and can also be used in cotton, wool, waste paper boxes, waste cardboard, yarn, tobacco leaves , Plastic, cloth, woven bags, knitted velvet, hemp, sack, wool top, hair ball, cocoon, silk, hops, waste plastic bags and other soft materials such as light foam and loose materials are compressed and packed, beverage cans and industrial scraps, etc. Packing of packaging materials and waste products saves up to 80% of the stacking space, reduces transportation costs, and is conducive to environmental protection and waste recycling.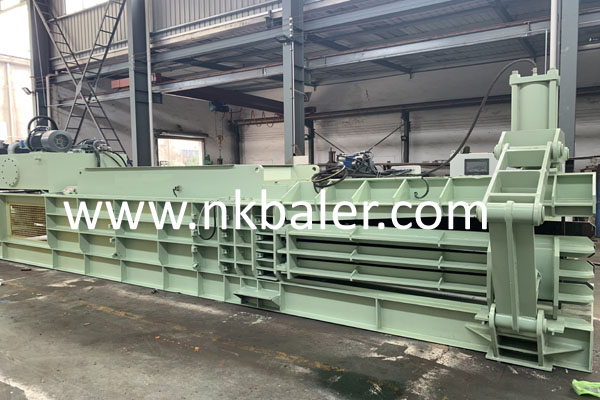 The NKW200Q
automatic hydraulic baler
produced by Nick Machinery has simple structure, convenient operation and maintenance, high quality and low price. Welcome to buy
www.nkbaler.net