Nick brand
hydraulic baler
is safe and reliable, low power consumption, economical and reasonable, convenient to use, simple to maintain and operate. It is a good helper for your production.
The work of the hydraulic system is reliable, but some failures may occur due to poor maintenance, damage to hydraulic components or unreasonable design, improper assembly adjustments, etc. during use and the test of new hydraulic equipment.
In the hydraulic system, most of the mechanisms and oils of various hydraulic components and auxiliary devices are in the enclosed shell and pipeline, which cannot be directly observed from the outside. It is not as clear as the mechanical rotation, and it is not as good as the measurement and pipeline connection. The circuit is so convenient, so it often takes more time to find the cause when a fault occurs.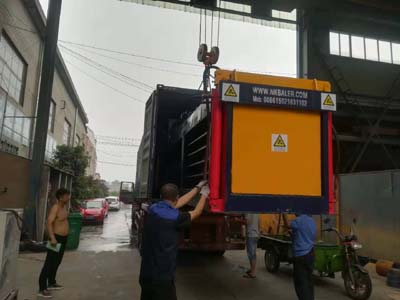 When the
hydraulic baler
is used, some of these failures of the hydraulic system are caused by the failure of a certain hydraulic system component, some are caused by the comprehensive factors of multiple hydraulic components in the hydraulic system; some are caused by hydraulic oil pollution, even if the same A failure phenomenon, the cause of the failure is also different, especially the current hydraulic equipment, which is a common combination of mechanical, hydraulic, electrical, and even microcomputers, and the resulting failures are manifold.
Therefore, Nick Machinery reminds you: After a hydraulic failure occurs, the hydraulic system of the hydraulic baler must be diagnosed to determine the location of the hydraulic equipment failure and the nature and cause of the failure, and take corresponding measures to ensure the normal operation of the equipment.
Company website:
www.nkbaler.net
, Tel: 86-29-86031588, welcome your visit.