Simple diagnosis technology is to rely on maintenance technicians to use simple diagnostic instruments and personal practical experience to diagnose the faults in the hydraulic system of the waste paper baler, identify the cause and location of the fault, and propose corresponding troubleshooting methods.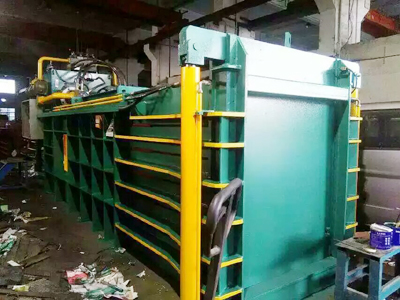 Simple diagnosis technology is a commonly used method, among which checking is the easiest one. Which aspects should be checked specifically? Listen to Nick Machinery's explanation
1. Look at the actual working status of the hydraulic system.
2. Look at the pressure value and fluctuation phenomenon of each measuring point in the hydraulic system.
3. Check whether the oil is clean and deteriorated, whether there is foam on the surface, whether the oil volume and oil viscosity meet the requirements, etc.
4. See if there is any leakage.
5. See if there is vibration when the working parts are working.
6. Look at the product quality, judge the working status of the motion mechanism, the stability of the system working pressure and flow.
By looking at these places, you can determine what went wrong, and then prescribe the right medicine.
If you still can't solve it, please log on to the Nick Machinery website to leave a message, the company website: www.nkbaler.net, or call: 86-29-86031588.