Tires (such as car tires, truck tires, etc.) are ground rolling rings assembled on various vehicles or machinery
Shaped elastic rubber products, so tires are a material with high resilience. The tire baler is specially used for
Vertical heavy-duty
dual-cylinder balers
for compressing and packaging automobile tires, truck tires and other products. In design, the tires hit
The charter plane fully considers the high degree of resilience brought about by tire compression, and especially strengthens the strength of the fuselage so that it can
It can offset the high rebound force of the tire after compression.
The vertical design of the tire baler has a small footprint and is widely used in tire recycling centers, which is a waste tire recycling,One of the essential machines in the industry. Using a tire baler to compress tires can greatly save storage space and reduce transportation cost.
The standard tire baler can compress 120-140 car tires in only 9 strokes, with a compression ratio of up to 12:1 and a bale weight of 1200kg. The high-profile tire baler not only has the various performances and advantages of the standard tire baler, but also increases the cooling system and improves the hydraulic system. As far as Baler efficiency is concerned, the high-end tire Baler machine can produce a block containing 120-140 automobile tires through 7 times of feeding and compression. The machine's no-load cycle time is only 35 seconds.
The tire bales compressed by the tire baler are widely used in the construction of sound insulation walls, urban greening facilities, and light-weight roads.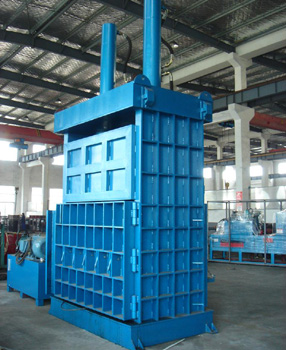 Base filler and other civil engineering.
If you need a high elastic material baler, you can contact us to customize your own tire baler solution
www.nkbaler.com
.