Causes of noise produced by hydraulic cylinders of waste paper baler
Author : admin Time : 2021-01-22 AllPageView : 82
The Nick brand waste paper baler is easy to operate, high in safety, automatic out of the package, and more efficient. It is your best choice.
The hydraulic cylinder of the
waste paper baler
sometimes produces noise when in use. Generally, there are mainly the following:
1. Air intrusion into the hydraulic system is the main cause of noise, followed by the unstable relief valve, which causes system pressure fluctuations and noise.
2. Improper adjustment of the reversing valve causes the spool of the reversing valve to move too fast, resulting in reversing shocks, resulting in noise and vibration.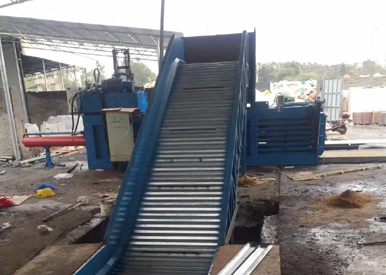 3. Due to mechanical vibration, such as slender tubing, many elbows without being fixed, it is easy to cause tube shaking when oil flows through, especially when the flow rate is high; the rotating part of the motor and hydraulic pump is unbalanced, or is installed Poor time alignment or loose couplings can cause vibration and noise.
The above is the reason for the noise generated by the hydraulic cylinder of the
waste paper baler
. We hope that customers pay more attention when using it, so that the waste paper baler can work longer and have a longer life. If you need it, welcome to visit Nick Machinery website: www.nkbaler.net, or call: 86-29-86031588.