Applicable scope and structural composition of metal baler
Author : admin Time : 2021-04-26 AllPageView : 43
Metal balers are mainly used in steel mills, recycling and processing industries, and non-ferrous and ferrous metal smelting industries. The metal baler can squeeze all kinds of metal scraps (steel shavings, scrap steel, scrap aluminum, scrap copper, scrap stainless steel, scrap car scrap, etc.) into various shapes of qualified furnace materials such as cuboid, octagon, cylinder, etc., to reduce The cost of transportation and smelting can also increase the speed of furnace operation.
Structure and composition:
It is composed of main frame system, hydraulic system and auxiliary components.
1. Main frame system: thick steel plate and gas shielded welding casts a strong frame. Advanced mechanical design makes the equipment durable.
2. Hydraulic system: Imported parts are used for key components such as hydraulic pump, solenoid valve and hydraulic cylinder oil seal, which make the packing pressure high, fast speed, durable and low noise.
3. Metal packing electrical control system (optional): original domestic electrical control, travel switch, button, guarantee quality.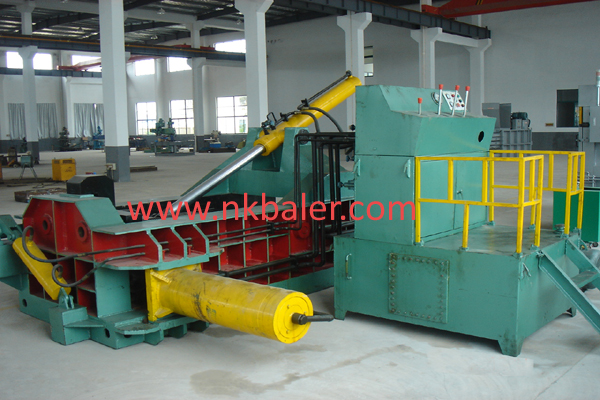 Nick Machinery's
metal baler
has always had its own uniqueness, because we believe that only by making our products more refined and distinctive can we have a better market. Make customers and friends give more praise to our
metal baler
.
www.nkbaler.net