Hydraulic station
, also known as hydraulic pump station, is an independent hydraulic device. It supplies oil according to the gradual requirements. It also controls the direction, pressure and flow of the hydraulic oil flow, which is suitable for various hydraulic machinery where the main engine and the hydraulic device can be separated. After the user purchases, as long as the hydraulic station is connected to the actuator (cylinder or oil motor) on the host with an oil pipe, the hydraulic machine can realize various prescribed actions and working cycles.
The
hydraulic station
is a combination of pump device, integrated block or valve combination, oil tank, and electrical box. The functions of each component are:
Pump device-equipped with a motor and an oil pump, it is the power source of the hydraulic station, which converts the mechanical energy into the pressure energy of the
hydraulic oil
.
Manifold-assembled by hydraulic valve and channel body. Adjust the direction, pressure and flow of hydraulic oil.
Valve combination-The plate valve is installed on the vertical plate, and the pipe behind the plate is connected, which has the same function as the manifold.
Oil tank-a plate-welded semi-closed container, which is also equipped with an oil filter, an air filter, etc., used for oil storage, oil cooling and filtration.
Electrical box-divided into two types. One is a terminal board with external leads; the other is equipped with a full set of control appliances.
The working principle of the hydraulic station: the motor drives the oil pump to rotate, and the pump sucks oil from the tank to supply oil, and converts mechanical energy into pressure energy of the hydraulic station. Connect the pipeline to the oil cylinder or oil motor of the hydraulic machinery to control the change of the direction of the hydraulic motor, the size of the force and the speed of the speed, and promote the work of various hydraulic machinery.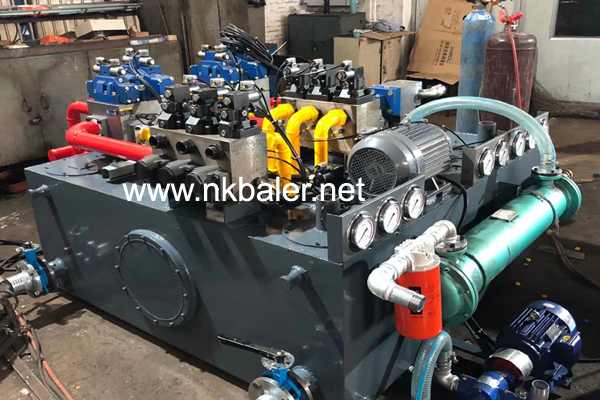 NKBALER is an enterprise specializing in the production of hydraulic machinery and accessories, allowing you to buy one-stop, worry-free after-sales. Welcome to buy:
www.nkbaler.net