Before investing in a
waste paper baler
, you need to understand the market. Investors must pay attention to two points when investing. One is the rate of return, and the other is the problem of risk loss; in simple terms, I invest a part of the money, after a period of time , How much money can I earn back; and in the process of making money, what is the proportion and probability of capital loss; investment in waste paper baler needs to consider three factors:
1. Invest in
waste paper balers
and engage in waste paper recycling, compression and packaging business projects. Key point 1: Whether there is a stable supply of goods. The input cost of purchasing new equipment and opening a waste paper Baling Press station includes (forklift, clamp truck, horizontal waste paper baler host, feeding conveyor belt, customers can choose according to their needs, floor scales, hydraulic oil generally 3-4 barrels, strapping rope) , There is still a certain amount of working capital in hand, with a total investment of about 300,000 yuan. As a novice investing in
waste paper Baling Press
stations, it is especially important to consider the average daily amount of waste paper recovered. It is especially important to choose a venue and contact paper collecting retail investors. Only by ensuring a certain amount of waste paper can be mass-produced in order to really bring considerable benefits.
2. When buying waste paper packaging, you need to consider whether to choose a feeding conveyor. The normal operation of the waste paper Baling Press station requires at least two people. The investment in the complete set of waste paper balers includes a feeding conveyor platform, which can greatly reduce the amount of labor and the price of the complete set of balers is more cost-effective. If an old customer invests in waste paper baler equipment, he will choose a complete set of equipment. On the one hand, he already has a wealth of waste paper recycling experience, and the probability that the amount of waste paper recycling will increase in the later period is very high. Choosing a complete set of baler is economical and cost-effective, and can greatly reduce labor and increase production.
waste paper baler
equipment manufacturers often encounter the situation of waste paper baler customers adding waste paper feeder equipment recently. As a newbie waste paper baler investor, if the investment budget is relatively loose in the early stage, you can also consider investing in a complete set of waste paper baler equipment.
3. To buy a
waste paper baler
, you must choose a reliable manufacturer. Here are some things you need to be cautious about when buying a waste paper baler when choosing a manufacturer: 1. When encountering companies with many
waste paper baler
manufacturers, the general manufacturer of waste paper baler will not easily change their name, because of the long-term The business will accumulate a certain reputation influence. Now it is an era where word-of-mouth propaganda is paramount, and good product word-of-mouth is the goal pursued by regular waste paper baler manufacturers. 2. For some small workshops for the production of waste paper balers, we must choose carefully. When buying a hydraulic
waste paper baler
produced by a small workshop, be sure to inspect the customer site of the waste paper baler and ask the manufacturer about the technical specifications of the
waste paper baler
, the manufacturer's operating years, product quality assurance and after-sales service.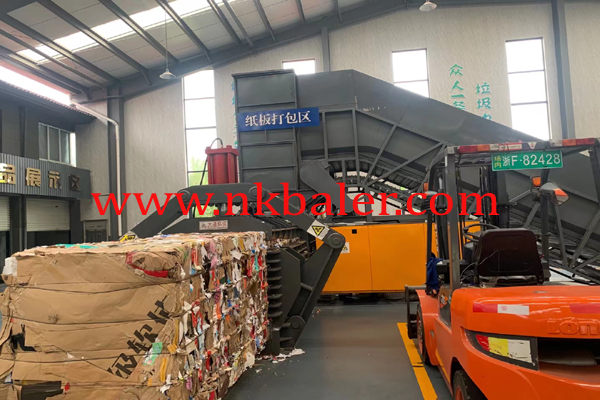 It is recommended that customers go to Nick Machinery to purchase. This is an enterprise that has been in the waste paper baler industry for nearly ten years. It has rich experience in production and use to ensure that more high-quality equipment serves thousands of households.