To build a waste paper packing station, a packing machine, a clamp truck, a floor scale and a truck are indispensable.
1. Packing machine:
For a waste paper packing station, the baler is indispensable. At present, the baler on the market is divided into vertical and horizontal baler, and the horizontal is divided into automatic and semi-automatic.
Although the
vertical baler
is cheap, because of its small packaging size and low efficiency, general baler stations will not use it, and more will choose horizontal baler, which is easy to achieve automation, can improve the overall efficiency of packaging, and save packaging Labor costs.
Features of
Horizontal Baler
:
All models are hydraulically driven, and manual or PLC automatic control operation can be selected;
There are different ways of discharging, such as turning the bag, pushing the bag (side push and forward push), or manually taking the bag (packing);
No foot screws are required for installation, and diesel engines can be used as power in places where there is no power supply;
Low noise hydraulic circuit design, high efficiency and low failure.
Horizontal structure, can be equipped with conveyor belt feeding or manual feeding.
Size selection of
horizontal baler
:
At present, the common models are 160, 180, 200, 220. If the initial packing station scale is small, usually about 10 tons, it may be 30 or 40 tons when it gradually expands later. If you are uncertain, you may wish to consider it at the initial stage. 160 type, when the later development is big, then replace the big model. The 160 type Baler packs 5 to 7 tons per hour, which can generally meet the packing station with a daily shipment of 20 to 40 tons.
2. Hold the clip car:
For waste paper packaging, diesel-style holding trucks are the most suitable. Generally, you can choose about 3 tons. If the size of the packaging station becomes larger, it is best to purchase a grab truck, so that the two can be used together, which can greatly improve Packing and loading efficiency.
3. Floor scale:
The commonly used specifications of floor scales are: width 3~3.4 meters, length 6~24 meters, weighing range 30T~200T, and some manufacturers can produce up to 250T. According to the size of the site and the 4.2/4.8/9.6 meters of truck models, the packing plant generally installs a truck scale of 6-10 meters. Considering the transportation problem, the loadometer can generally choose the nearest manufacturer to facilitate installation and after-sales service.
4. Truck:
Taking into account the convenience of transportation and the limited traffic weight, minivans under 5 tons are generally selected.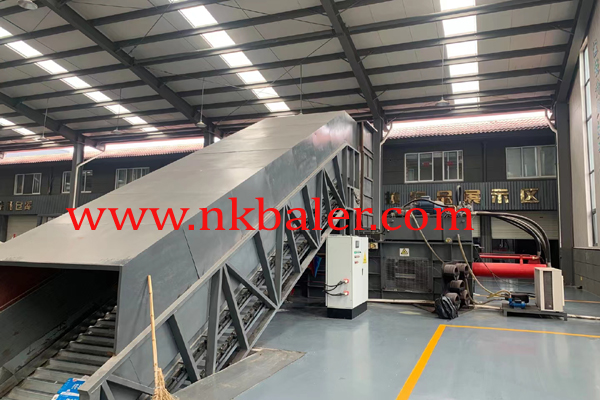 Nick Machinery can tailor the packaging machine according to your packaging requirements, space size, and budget constraints. You can contact us for more information in order to recommend the best packaging solution for you. You are welcome to consult www.nkbaler.net