The waste paper baler is divided into two series: automatic and semi-automatic. It is controlled by PLC microcomputer. It is mainly used for large-scale renewable resource recycling stations, paper mills, etc. for the compression molding of waste paper boxes, newspapers, pit paper and other waste materials. The packaged waste paper has the advantages of uniform size, large specific gravity, high density and reduced volume, which greatly reduces the space occupied by waste paper and reduces storage costs and transportation costs.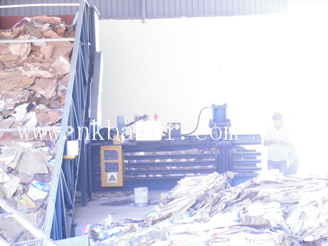 Waste paper baler features:
1. Horizontal structure, using conveyor belt feeding, saving time and effort;
2, button operation, PLC control, safe and reliable;
3. The matching power is adjusted according to the machine model and actual production requirements;
4. It can be equipped with chain plate type or belt conveyor according to user's requirements. It has large conveying capacity, anti-wear resistance, strong load capacity and anti-slip function.
5, the package length can be set freely, the microcomputer accurately records the package value and production efficiency.
Waste paper baler advantages:
1. It adopts the international leading hydraulic oil circuit power system, which greatly improves the packing efficiency, and has the characteristics of fast packing speed, high efficiency, energy saving and stable performance.
2, a variety of cooling systems for users to choose (water cooling system, air cooling system and industrial air conditioning cooling system), of which industrial air conditioning refrigeration is the exclusive patent high-tech achievements of our company's baler industry;
3, the use of push and hook line two fast and efficient wire-laying method, fast and efficient wire-wound device, low failure rate for easy maintenance;
4, using the mechanics principle, 3 sets of tight-packed cylinders make the compressed material tighter, the packaged package is more regular and the density is larger;
5, touch screen console, microcomputer PLC control, simple, clear, at a glance, and with computer-assisted error correction;
6. Adopting the first domestic introduction of double tough cutter design greatly improves the efficiency of cutting and prolongs the service life of the blade.