The waste paper baler
can effectively recycle and utilize waste paper. Everyone knows that the world currently advocates green environmental protection, and also attaches great importance to the waste recycling industry. The application of
waste paper baler
s .It responds well to the country's policy and better advocates the concept of environmental protection. In addition, the use of waste paper balers by enterprises also has objective profits. Here to share with you that the waste paper baler can improve the recycling of waste products,It is mainly reflected in four advantages:
First, there are clear data showing that the recycling of
waste paper balers
to make paper can greatly reduce forest, water, electricity consumption and pollutant emissions. According to experts, recycling one ton of waste paper can produce 0.8 tons,Recycled paper fiber can save 17 trees and save 3 cubic meters of landfill space.
Second, waste recycling is an intangible wealth.
Waste paper balers
are called forest resources in cities, because whether it is waste newspapers, book paper, office paper, or kraft paper, cartons, corrugated paper etc., are valuable fiber raw materials.
Third, the cost is low and the profit is high. Using waste paper to make paper has low energy consumption, low environmental protection treatment costs, and low unit raw material cost. Newsprint produced in my country with waste paper can be produced at a lower cost than virgin wood pulp 300 yuan/ton, can also reduce environmental pollution, so people call paper and cardboard produced from recycled fibers as green products.
Fourth, the formation of a win-win effect. Using 1.25 tons of cultural waste paper as raw material, one ton of recycled office paper can be produced. According to international standards, it can save 4 cubic meters of wood, 100 cubic meters of water, 600 kW/h of electricity,1.2 tons of coal, 300 kilograms of chemical raw materials, 150 yuan for the treatment of waste residue, and land for landfill waste, which avoids the pollution of the surrounding groundwater caused by the landfill waste, and reduces the production of 3 cubic yards Solid waste, 60 pounds of industrial waste. According to Chinese standards, the savings will be even more. With an annual output of 50,000 tons of recycled paper, the plant can save 5 million cubic meters of water and 200,000 cubic meters of wood.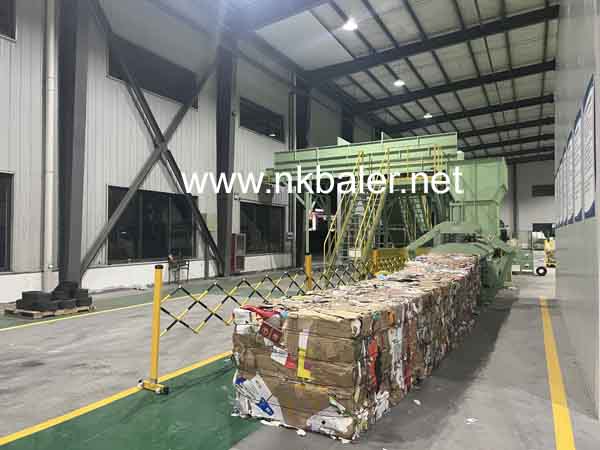 NKBALER's
waste paper baler
keeps up with the market trends and makes timely improvements, so that it can better serve the new and old users and contribute to the green environmental protection of the society.https://www.nkbaler.net/