Hydraulic baler
is the most common one among many types of baler. Although it is frequently used, there are still many users who do not understand the work management mode of the equipment. So next,
Nick Machinery
will introduce the work management mode of its equipment.
Users who are familiar with the baler know that the management of the
hydraulic baler
is performed by the photoelectric information sensor to detect the target object and perform the data packaging to complete the work. The standard baler can be equipped with 3 sensors and 2 parallel bands. General corporate users I would think that if we didn't make two parallel passes, it should be one electronic eye that detects that there is an object being transported, and then one package is carried out. The two electronic eyes detect that there is an object and start to learn the second package operation, but in fact, control Part of the work business process design is not because of this.
Horizontal hydraulic baler
installation does not require foot screws, and diesel engine can be used as power in places where there is no power supply. Hydraulic baler is mainly suitable for steel mills, recycling and processing industries, and non-ferrous and ferrous metal smelting industries.
The
hydraulic baler
can squeeze all kinds of metal scraps (steel shavings, scrap steel, scrap aluminum, scrap copper, scrap stainless steel, scrap car scraps, etc.) into various shapes of qualified furnace charge such as cuboid, octagon, and cylinder, which can reduce The cost of transportation and smelting can also increase the speed of furnace operation. The
waste paper baler
is used to squeeze waste paper and similar products under normal conditions, and pack them with special packaging tapes to greatly reduce the volume, so as to reduce the transportation volume, save the freight, and increase the benefits for the enterprise. The introduction of advanced technology and advanced technology of similar products at home and abroad.
The hydraulic baler PLC controls the packaging. When one electronic eye and two electronic eyes are blocked by the goods at the same time, the program will perform a packaging operation; when one electronic eye and two electronic eyes are blocked but the three electronic eyes are not blocked, a secondary packaging operation is performed. In the process of this procedure, it is possible that the packaging operation of the two channels is not very easy to understand, but it is actually very simple. The reason for this design is to prevent the two cartons from being particularly close, causing misoperation of the packaging machine.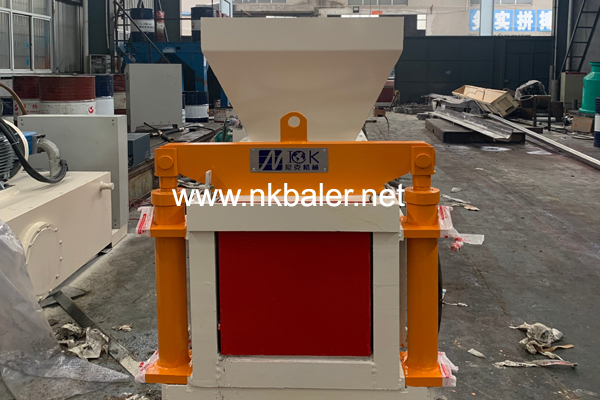 The faults of the
Nick Machinery automatic hydraulic baler
can be automatically diagnosed and displayed automatically, which greatly improves the detection efficiency. Contact number
86-29-86031588
.