Precautions for normal and stable operation of corn straw baler
Author : admin Time : 2019-05-27 AllPageView : 262
The packing work of the
corn straw baler
is effective in packaging and recycling the straw crops. It is also a support for the strong recovery power of the corn straw baler. The corn straw baler is mainly based on the characteristics of the straw, and the packaging plan is effectively carried out. .
For the corn straw baler hydraulic cylinder, the stroke is longer, and the size after retracting is smaller. It is suitable for the occasion where the space for placing the hydraulic cylinder is limited and the stroke requirement is long. It is often used in construction machinery and transportation machinery. .
When the
corn stalk baler hydraulic cylinder
drives the high-quality components to make rapid reciprocating motion, since the moving parts of the corn straw baler have great kinetic energy, when the corn straw baler piston moves to the hydraulic cylinder terminal, it will be combined with the end cap. Collision, which produces shock and noise. The mechanical impact of the corn straw baler not only causes damage to the relevant parts of the hydraulic cylinder, but also causes damage to other related machinery. In order to prevent this hazard and ensure safety, buffer measures should be taken to control the speed of the hydraulic cylinder.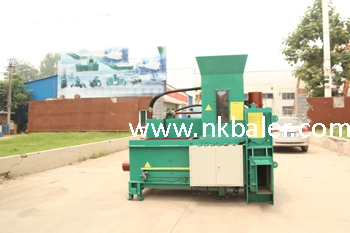 Note on the operation of
corn straw baler
.today nkbaler company give you blew suggestion :
1. All parts of the corn straw baler should be cleaned with kerosene or diesel, and no dirt should remain in the hydraulic cylinder.
2. Disassemble and clean the corn straw baler. Dispose the cotton yarn and rag to wipe the parts to prevent the falling cotton yarn from mixing into the hydraulic system.
3. During the assembly process of the
corn straw baler
, the surface of each moving pair should be coated with lubricating oil.