Operating principle of straw baler
Author : admin Time : 2021-12-15 AllPageView : 311
The operating principle of the straw baler: the motor is started, and the gear pump is driven by the motor. There are two gears in the pump body that are engaged with each other for rotating movement. Under the effect of atmospheric pressure, it enters the pump from the suction chamber. Following the rolling of the gear, the hydraulic pressure gradually enters the sealed pressure oil chamber, so that the pressure oil chamber is continuously reduced, so it constitutes a hydraulic effect. The hydraulic oil is pressed out of the pump, and the pressed hydraulic oil enters the reversing valve through the pipeline to operate The control rod makes the hydraulic oil move directionally, and the hydraulic oil enters the cylinder through the pipeline along the distribution direction. The continuous flow of hydraulic oil causes the piston in the cylinder to receive huge pressure and push the push rod to move in a straight line. Under the effect of, the propelling piston descends to compress the object to be pressed. When it rises, the operating rod is in the rising position, and the pressure oil enters the lower chamber of the cylinder through the reversing valve, pushing the piston up under the effect of pressure, and the upper chamber oil flows through the upper chamber hole, and the oil return valve flows back to the oil tank. When the straw baler is Baler, the Baler material should be filled into the pressure box, and the downward control valve is operated to make the push rod move downward to tighten the Baler material. When the downward movement is to a certain degree, the operating lever control valve pushes upward and then loads the material to be packed, so that it reciprocates Several times to reach the standard package weight is the main.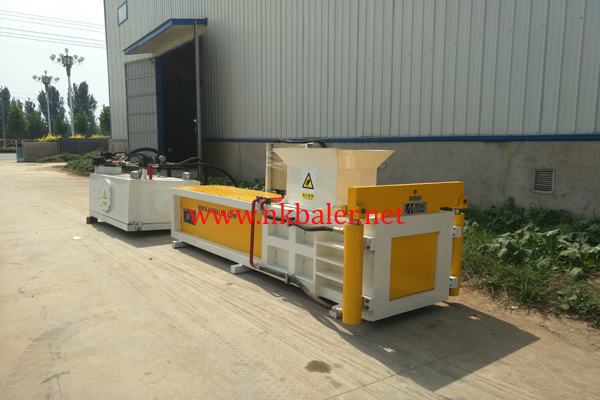 Nick Machinery Straw Baler
has the characteristics of small footprint, simple operation, high work efficiency, mobile use, compact bundling effect, high density, and good air permeability.
https://www.nkbaler.net