1. The
vertical baler
is ready to pack the wire, open the small doors on the left and right sides and the front and rear doors, spread the woven bags on the bottom row,
then close the door and the small door, and pull the small door support rods on both sides (except the hydraulic door opening operation) Pull the switch handle), hold the small door firmly;
2. Feed the material into the box. The feeding should be uniform and flat, not high on one side and low on the other, otherwise it will cause the pressure and discharge piston rod to tilt and bend and deform;
3. Operate (pull outward) to step on the handle after filling the material box to lower the upper pressure row.
When it drops to the yellow mark line, push the step on the handle to make the upper pressure row rise and stop when it reaches the yellow mark line;
4. The
vertical baler
feeds the material into the box again-presses down-rises, and repeats this several times until the material reaches a certain weight,
push the handle inward to make the upper press bar rise to the yellow marking line and stop;
5. Install the woven bag on the upper presser row, and then manipulate (pull out) the pressurizing handle to make the stepping on the bag and the pressurizing cylinder simultaneously press down the pressurizing cylinder at the same time, and stop when the pressure reaches the yellow mark line;
6. Open the small door support rod (push the door handle in the hydraulic door), open the small door and the gate, and wrap the woven bag for threading and threading;
7. The vertical Baler machine is operated (inwardly pushed) to press the handle, so that the pressing row rises to the yellow mark line to stop, and then push out the bag, which completes a Baler operation process.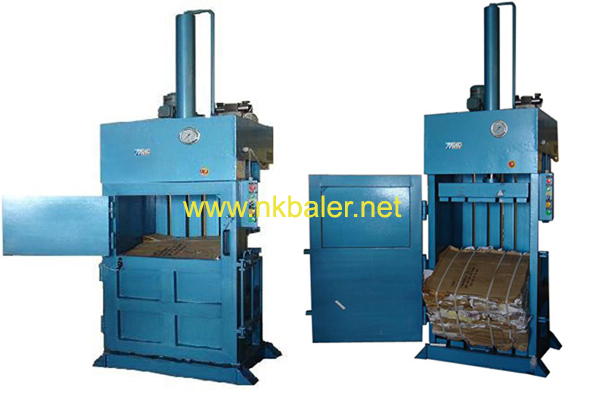 NKBALER
adheres to the "people-oriented" corporate philosophy, has a team of employees, and strives to provide good products and services to the society.
www.nkbaler.net