The quality of smart waste paper baler directly determines the quality of recycled products
Author : admin Time : 2021-03-23 AllPageView : 71
The current waste paper recycling stations are of different sizes, good or bad, and different requirements for waste paper recycling. Many of these are mixed collections of low-quality paper and high-quality paper, which can easily lead to advanced use of paper. Therefore, many large waste paper recycling stations will be sorted. The
smart waste paper baler
plays a key role here.
Most waste paper contains more or less impurities and needs to be treated after sorting the waste paper. It can be transported to a waste paper processing center for processing. The task of the waste paper processing center is to determine the type of waste paper according to the classification of waste paper bags. High-grade waste paper can be recycled into high-grade industrial paper, waste paper baler waste paper and low-grade waste paper. After cleaning the paper, it can be further processed so that the waste paper can be recycled. If a large amount of impurities or other fiber materials are mixed into the waste paper, the increase in the amount of impurities will seriously affect the strength of the paper, especially the appearance quality of the paper, and also cause a lot of concealment. Encountered trouble in subsequent processing. Metal, masonry, etc. not only increase the processing difficulty, but also cause equipment wear. The quality of waste paper Baling Press of the
smart waste paper baler
directly determines the quality of recycled products.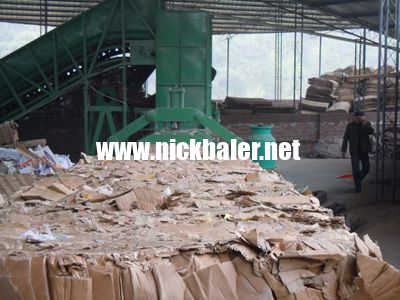 The quality of
smart waste paper baler
will directly determine the quality of recycled products
Therefore, in the waste paper recycling process, the waste paper should be handled in the following way: remove the scraps before the waste paper; the waste paper baler can be deleted in the previous process, but can not be deleted in the next process; when the area of impurities is greater than and less than Area can be removed. It is best to eliminate it within a period of time.
Nick Machinery specializes in the production of various waste paper balers, which are suitable for waste paper recycling stations of various specifications. The waste paper baler has advanced technology, reliable quality and stable performance. They are ideal for you.