Straw is an important resource, but because of its fluffy structure, it is not conducive to transportation, so it is necessary to process
the straw
to mechanize its production and processing. Most of the existing straw forming machines process straws into fuels, resulting in too simple utilization of straws. In order to make better use of straw resources, the straws can be used for fermentation to produce biogas or as feed, and to solve the problem of straw transportation. The scheme creates a one-way
straw compression baler
. The straw compressor has a simple structure, a fast production and processing speed, a small number of operators required, and can produce and process silage straw. 
1) Design scheme and analysis of straw structure. According to the requirements of the design scheme, in order to improve the efficiency of production and processing, the design scheme of this equipment is that two compression boxes work at the same time.
The straw
is divided into two parts: feeding and pressing and bagging. The feeding is mainly realized by the hopper and its internal parts. The hopper has an n-shaped structure. The upper end is equipped with a feeding cage to distribute the straw to the two ends of the hopper. The blanking port is equipped with a twisting cage to make the straw fall regularly; pressing and bagging are mainly realized by the compression box and its internal parts, and the pressing and pushing plates are driven by the hydraulic cylinder to realize the compression and ejection of the straw for bagging.
2) The design scheme of the power system. The hydraulic system is designed as the main power of the equipment, and the feeding cage is driven by the motor. Select hydraulic cylinders as the actuators for pushing and pulling the compression box cover, compressing materials and pushing out materials, and selecting motors as the actuators for distributing materials, and select the specifications of each component in the hydraulic system through calculation.
3) Calculation of the design scheme of key components. Calculate the size of the compression box according to the compression ratio design plan, and design the installation and connection mode of each hydraulic cylinder; calculate the size of the feeding cage according to the production and processing efficiency design plan, and realize the design plan of the hopper and the shifting cage.
4) Finite element analysis of pressing plate and pushing plate. The statics simulation of the two plates is carried out, and the greater deformation and greater stress are obtained when the force is applied, which provides a theoretical basis for the stable operation of
the straw compressor
.
5) Trial production and improvement of straw compressor. The compressor parts were produced, processed and installed to obtain a prototype, and then the prototype was tested. The test results were good, the prototype ran smoothly, reached the expected results, and met the requirements of the design plan. In order to improve the equipment, the experimental plan of the design scheme clarified the compression rate of corn stalks.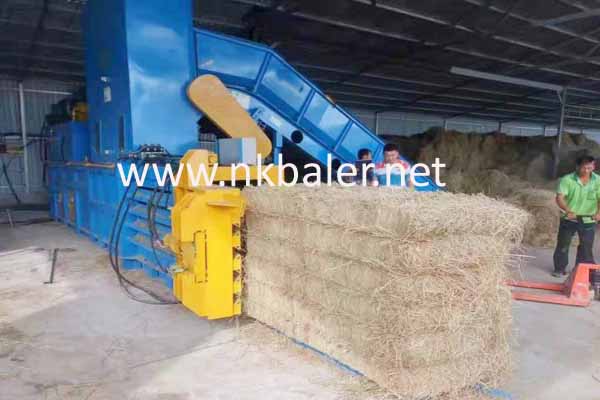 NKBALER is a professional manufacturer of hydraulic packaging. It has professional after-sales service and perfect after-sales service. Choose us to save your time.