Automatic waste paper baler precautions
Author : admin Time : 2019-09-11 AllPageView : 289
The automatic waste paper baler is easy to operate, safe, energy-saving, and low-cost investment in infrastructure engineering. It is widely used in various waste paper mills, receiving and accepting old enterprises, and is used in the waste paper boxes, book newspapers, plastic bottles, straws, automobile interiors, automatic waste paper balers, rock wool, cotton, etc. Packing acceptance is a good facility to improve labor efficiency, reduce labor intensity, save manpower, and reduce transportation costs.
The fully automatic waste paper baler is a paid waste disposal service that is purchased by a professional waste recycling station or company. Afterwards, the scientific treatment and classification of waste products has reached the standard of recycling again. The waste recycling service plays a positive role in protecting the environment, saving energy and promoting social benefits. A professional waste company can not only increase the efficiency of the company, but also bring cost-saving effects to the society, and at the same time contribute to the environment.
The automatic waste paper baler motor should use copper core motor. At present, most baler products are mainly three-phase electric, so the motor can provide power for it, and can also increase the machine performance and reduce production troubles. Regarding the choice of channel steel, since most of the balers are welded by channel steel, standard channel steel should be selected, and then the production process should be paid attention to during the production process. For hydraulic cylinders, plunger pumps and control system accessories, try to choose the standard model of the big factory to avoid trouble. The chain selects high quality and extends the life of the conveyor platform. The core hydraulic components must be of a quality.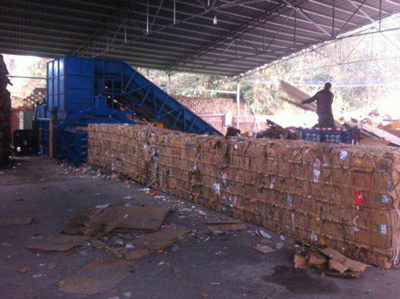 The simple use of recycling and non-processing methods to deal with these garbage will occupy too much accumulation space, and also requires transportation costs and manpower. Therefore, in order to reduce the transportation cost and dispose of it, in this case, a fully automatic waste paper baler equipment is needed to help. The fully automatic waste paper baler has become a mature packaging equipment, which is applied to the environmental protection field, and fully automatic waste. Paper baler equipment has also become an important equipment for large-scale packaging of raw materials.as more information ,please visit : www.nkbaler.com