Many times when we use a
hydraulic baler
, we will find that the adhesiveness of the
hydraulic baler
that we just bought is obviously better than the adhesiveness of the
hydraulic baler
after a period of use, so for this kind of use for a long time or use it How should the adhesiveness of the hydraulic baler after a period of time be improved? Next, I will introduce a few ways to improve adhesion.
1. Check whether the temperature adjustment rotary button is not suitable. It is recommended not to adjust too much. Generally speaking, between 4 and 5 of the scale line can meet the requirements.
2. Check if it is a heater problem. If there is a problem with the heater, you can solve the problem according to the instructions on the hydraulic baler equipment. If you can't solve the problem yourself, you can also call the supplier and let a professional guide us through it.
3. Check whether the power supply voltage is normal. If it is not normal, this situation may also occur. Check whether the voltage is the voltage that the machine should use, generally 220 volts.
4. The middle cutter spring of the Baler is fatigued. This is one of the common reasons. Users should learn to judge for themselves whether this is the case. If this is the case, it is necessary to suspend the Baler device for a while, or directly replace the spring.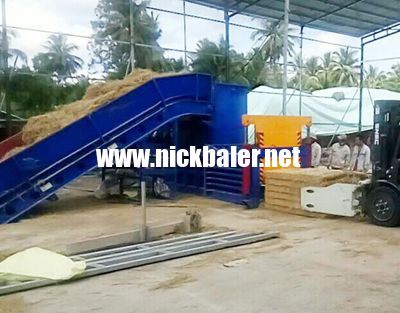 5. Check whether the position of the ironing head of the equipment is wrong, and manually adjust its correct position. Generally speaking, it needs to be adjusted according to the actual needs of customers.
The above are the methods of how to improve the adhesiveness of hydraulic baler introduced by our Nick Machinery. You can refer to this problem during use. If you encounter other problems, you can contact 86-29-86031588, and there will be professionals to answer you.